solarminds
solarminds
Solarminds (though yet un-named) was first conceived of during a conversation between Chris and Victor at a party thrown by Dave Loza (drummer for Pisces Shadow).  Chris and Victor had known each other in high school, but it was at this particular party that they first really got to talking about what they thought about music, aesthetically and philosophically, and what they envisioned doing with sound in the context of a band.  They decided to try jamming together, and when they did it was the most natural thing.
The first jam sessions took place in late 2001 in Chris' apartment in the North Park area of San Diego.  They recorded their jam sessions onto a Tascam Portastudio 4-track records.  Within the next couple years, Chris moved into Victor's apartment in the College area of San Diego, and they turned the living room into an all-out sonic freak fest of wires, mixing boards, effects pedals, and other gear.  Chris purchased a 24 channel Mackie analog mixer along with a Tascam CD recorder.  The duo's explicit goal was to try and create as much sound as possible by whatever means, and they did- each on guitar, Chris on vocals and operating the mixer and outboard effects and Loop station, Victor operating enough pedals to literally make your head spin and an Alesis SR-16 drum machine (pre-programmed by Chris), and each sometimes adding additional found sounds on tape decks, old Casio keyboards, etc.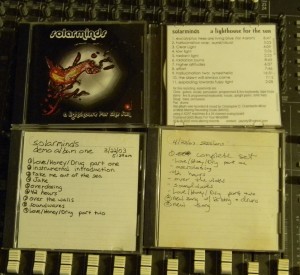 Almost every jam and rehearsal session was recorded and scrutinized later.  A massive amount of these direct to CD recordings (that is, all pre and no post, no overdubs etc) were made, and  solarminds complete set is representative of the height of the sonic prowess of this early incarnation of solarminds, which sadly did not last, ending later in 2003. The album, solarminds demo album one, was recorded using one ADAT which allowed for 8 tracks, but there are minimal overdubs, and it still feels like that "live direct" sound.
2005 saw a new line-up and the production of a lighthouse for the Sun demos- much of the material from this album was either totally reworked or left behind altogether by the time a lighthouse for the Sun was recorded and released in 2008.  You can read more about that album here.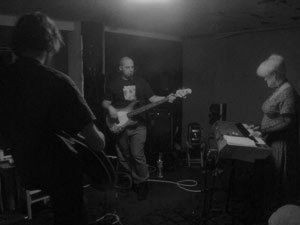 Solarminds just finished up their second release, Intimate Portraits and Ambient Gestures.